I am from a generation who has witnessed the devastating effects of polio. When I discovered how close we were to eradicating polio, I was very motivated to be a part of this movement. It is so rare when you can accomplish something so spectacular.
3 Actions.
3 Minutes.
A world of difference.

Learn
Get informed and help make polio a subject of conversation in your community.

Share
Most people have heard of polio but few know that the disease still affects children around the world. You can help by spreading the word.

Donate
Every donation helps us obtain the vaccines, transport and materials needed in the fight against polio.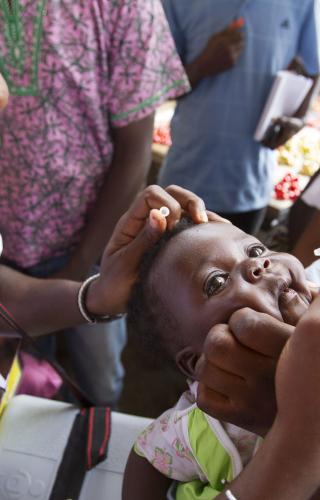 6 Key Numbers in the Fight to End Polio
John Hewko, General Secretary, Rotary | 13 January 2017
We are close to eradicating a human disease for only the second time in history. A global public-private partnership has reduced the poliovirus caseload by 99.9% over the last 30 years, but there's still plenty of work to do...
Current Status
Since 1988, we've seen a worldwide reduction in polio cases of 99.9%. Last year we only saw wild polio cases in three countries.
Afghanistan
03
Reported Cases
2014: 28
2015: 20
2016: 13
Pakistan
02
Reported Cases
2014: 306
2015: 54
2016: 20
Nigeria
00
Reported Cases
2014: 06
2015: 00
2016: 04
World Polio Day
Watch our fourth annual World Polio Day event, co-hosted with the U.S. Centers for Disease Control and Prevention (CDC). We streamed live from CDC headquarters in Atlanta, Georgia, bringing together more than 100,000 viewers around the world. Celebrities and experts joined us to share our progress on the road to polio eradication.