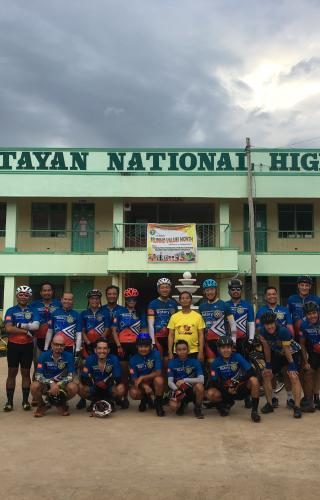 Ride provides polio vaccinations to Filipino communities
In early 2019, the Rotary Club of Cebu in the Philippines gathered to figure out what we could do to raise immunization rates on our island. They were troubled that in 2018 only 66 percent of children received doses of the oral polio vaccine. Rotary's campaign to eradicate polio began in the country four decades ago when Rotary International teamed up with the World Health Organization and the Philippine Ministry of Health to vaccinate six million Filipino children. The Rotary Club of Cebu decided they needed to do something to persuade parents to vaccinate their children and get rates back to the 95 percent level that is necessary to prevent outbreaks of vaccine-preventable diseases like polio.

World Polio Day
24 October
One Day, One Focus, Ending Polio.
I am from a generation who has witnessed the devastating effects of polio. When I discovered how close we were to eradicating polio, I was very motivated to be a part of this movement. It is so rare when you can accomplish something so spectacular.
3 Actions.
3 Minutes.
A world of difference.

Learn
Get informed and help make polio a subject of conversation in your community.

Share
Most people have heard of polio but few know that the disease still affects children around the world. You can help by spreading the word.

Donate
Every donation helps us obtain the support, transport and materials needed in the fight against polio.
Current Status
Since 1988, we've seen a worldwide reduction in polio cases of 99.9%. For more than three years, we've seen wild polio cases in only two countries, Afghanistan and Pakistan.
Afghanistan
34
Reported Cases
2019: 29
2018: 21
2017: 14
2016: 13
Pakistan
63
Reported Cases
2019: 147
2018: 12
2017: 08
2016: 20
Nigeria
00
Reported Cases
2019: 00
2018: 00
2017: 00
2016: 04

Miles to End Polio
Join Rotary International General Secretary John Hewko, Rotary leaders, staff, and members as they bike El Tour de Tucson in Arizona, USA, to raise funds to support polio eradication efforts.